Shari'ah Law As Civil Law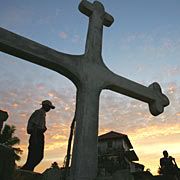 Photo from sky.com
(All emphases by Always On Watch)
At various web sites, I have been reading about Abdul Rahman's plight.
The followng article is reproduced in its entirety:
'An Attack On Islam'
Updated: 15:18, Sunday March 19, 2006

"An Afghan man is facing the death penalty for becoming a Christian.

"Abdul Rahman was arrested last month after his family went to the police and accused him of converting from Islam.

"He has gone on trial for rejecting Islam - an offence punishable by death under Shariah law.

"During the hearing, the defendant allegedly confessed that he converted from Islam to Christianity 16-years-ago.

"He had been working as a medical aid worker for Afghan refugees in neighbouring Pakistan.

"The judge said: 'We are not against any particular religion in the world.

"'But in Afghanistan, this sort of thing is against the law.

"'It is an attack on Islam. The prosecutor is asking for the death penalty.'"
Another
news source
provides this information:
"Afghanistan's constitution is based on Shariah law, which states that any Muslim who rejects their religion should be sentenced to death ....

"The prosecutor, Abdul Wasi, said the case was the first of its kind in Afghanistan.

"He said that he had offered to drop the charges if Rahman changed his religion back to Islam, but the defendant refused...."
In two months, the court in Kabul is scheduled to rule on the above matter. Abdul Rahman is believed to be forty-one years old.
So there it is: being a Christian is an attack on Islam.
Update
from the Washington Post:
"...After being an aid worker for four years in Pakistan, Rahman moved to Germany for nine years, his father, Abdul Manan, said outside his Kabul home.

"Rahman returned to Afghanistan in 2002 and tried to gain custody of his two daughters, now aged 13 and 14, who had been living with their grandparents their whole lives, the father said. A custody battle ensued and the matter was taken to the police.

"During questioning, it emerged that Rahman was a Christian and was carrying a Bible. He was immediately arrested and charged, the father said.

"Afghanistan is a conservative Islamic country. Some 99 percent of its 28 million people are Muslim, and the remainder are mainly Hindu.

"A Christian aid worker in Kabul, who spoke on condition of anonymity because of the sensitivity of the matter, said there was no reliable figure for the number of Christians, though it was believed to be only in the dozens or low hundreds. He said few admit their faith because of fear of retribution and there are no known Afghan churches.

"An old house in a war-wrecked suburb of Kabul serves as a Christian place of worship for expatriates. From the muddy street, the building looks like any other. Its guard, Abdul Wahid, said no Afghans go there.

"The only other churches are believed to be inside foreign embassies or on bases belonging to the U.S.-led coalition or a NATO peacekeeping force.

"Hakim, the human rights advocate, said the case would attract widespread attention in Afghanistan and could be exploited by Muslim conservatives to rally opposition to reformists who are trying to moderate how the religion is practiced here.

"'The reformists are trying to bring about positive changes,' he said. 'This case could be fertile ground for extremists to manipulate things.'

"Muslim clerics still hold considerable power in Afghanistan, especially in rural areas where most women wear all-encompassing burqas and are dominated by men.

"Hakim said that if Rahman was acquitted, it would be a propaganda win for the Taliban rebels, who have stepped up their insurgency in the past year.

"In the months before U.S.-led troops ousted the Taliban in 2001, it claimed Western aid groups were trying to convert Afghan Muslims. They arrested eight foreign aid workers for allegedly preaching Christianity, but later released them unharmed."
Another update, March 21: American Family Association petition to sign
here
.