Memorial Day
"It is the soldier, not the reporter, who has given us the freedom of the press. It is the soldier, not the poet, who has given us the freedom of speech. It is the soldier, not the campus organizer, who gives us the freedom to demonstrate. It is the soldier who salutes the flag, who serves beneath the flag, and whose coffin is draped by the flag, who allows the protester to burn the flag."
--Father Dennis Edward O'Brien, U.S. Navy chaplain, who served on Guadalcanal during WWII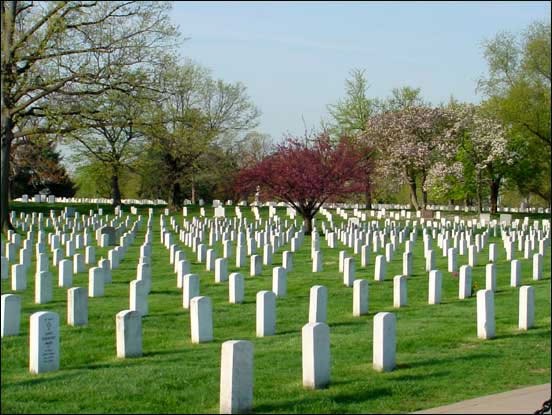 Government issued headstones in one of the sections at Arlington National Cemetery.
Remember the
meaning
of Memorial Day:
"Memorial Day, originally called Decoration Day, is a day of remembrance for those who have died in our nation's service."
Very basic, isn't it? But consider the following:
"Traditional observance of Memorial day has diminished over the years. Many Americans nowadays have forgotten the meaning and traditions of Memorial Day. At many cemeteries, the graves of the fallen are increasingly ignored, neglected. Most people no longer remember the proper flag etiquette for the day. While there are towns and cities that still hold Memorial Day parades, many have not held a parade in decades. Some people think the day is for honoring any and all dead, and not just those fallen in service to our country...."
This site
has some specific suggestions for a proper observance. Remember to honor those who paid the ultimate price so that we can remain free!
Below is one of the poems most often quoted in remembrance of lives given on the battlefield--"In Flanders Fields":
In Flanders fields the poppies blow
Between the crosses, row on row,
That mark our place; and in the sky
The larks, still bravely singing, fly
Scarce heard amid the guns below.

We are the Dead. Short days ago
We lived, felt dawn, saw sunset glow,
Loved and were loved, and now we lie
In Flanders Fields.

Take up our quarrel with the foe;
To you from failing hands we throw
The torch; be yours to hold it high.
If ye break faith with us who die
We shall not sleep, though poppies grow
In Flanders Fields.

[Literary analysis of John McCrae's "In Flanders Fields"
here
]
And remember the words of Moina Michael, who wrote a response to "In Flanders Fields":
We cherish too, the Poppy red
That grows on fields where valor led,
It seems to signal to the skies
That blood of heroes never dies.
Be sure to visit GM's site for more photos related to Memorial Day!
Mustang's Memorial Day posting is also a must-see.