Beyond Our Imagination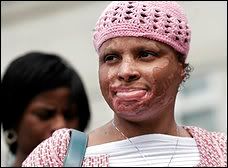 Photo from the Washington Post
Yvette Cade, pictured above, heard the verdict she was hoping for. Below is an excerpt from the
Washington Post
article
"Man Who Set Woman Afire Gets Life in Prison"
:
"Roger B. Hargrave exercised his right to remain silent before a Prince George's County jury when he was tried and convicted in April of trying to kill his estranged wife by dousing her with gasoline and setting her on fire....

"In a barely audible voice, Hargrave, 34, apologized to witnesses to the assault. He apologized to Cade's family. He said he was sorry for Cade's condition and prayed she would accept his apology. He said he had become a Christian and hoped to counsel victims of physical and emotional abuse.

"'I still can't figure out what I thought I was doing,' Hargrave said. 'I'm sorry for the pain I've caused. I can only explain my actions as that of Dr. Jekyll and Mr. Hyde.'

"Circuit Court Judge William D. Missouri was unmoved.

"'You never once said I am sorry for what I did to my wife,' Missouri told Hargrave. 'You said I'm sorry for what happened to her. You're avoiding responsibility for what you did.'

"Because of his actions, Cade will suffer the rest of her life, Missouri told Hargrave.

"Missouri then handed down the unusually stiff sentence....

"When [Yvette] Cade was given the opportunity to speak yesterday before Hargrave was sentenced, she stood and said she couldn't think of anything else to say. She asked people in the packed courtroom to bow their heads and close their eyes, then recited the Lord's Prayer.

"During a brief news conference outside the Upper Marlboro courthouse after yesterday's hearing, Cade, who is divorced from Hargrave, praised the sentence.

"'With this sentence issued by the judge, I finally feel safe from him,' Cade said in a prepared statement.

"She said she had thought the protective order she obtained against Hargrave in July would help protect her, adding that she believes she was made vulnerable when it was rescinded.

"Although she did not mention him by name, she was referring to an action by District Court Judge Richard A. Palumbo on Sept. 19, about three weeks before the attack, according to court records....

"State's Attorney Glenn F. Ivey, who helped prosecute the case against Hargrave, said Hargrave would probably be eligible for a parole hearing in about 15 years. Even if he were to get a hearing and persuade the parole board to recommend his release, he would have to get the governor to sign off on it, Ivey said.

"During yesterday's hearing, Assistant Public Defender Gary Ward told Missouri that most of Hargrave's troubles with the law stemmed from his abuse of alcohol and drugs. Hargrave began using marijuana on a daily basis at 12 and began drinking daily seven years later, Ward said."
For months following the brutal attack on October 10, Yvette Cade's story has been a leading story in the local news and has made national news as well. What she suffered, as well as what she continues to suffer, is beyond the imagination for most of us.
Have you ever met a burn victim, up close and personal? Some years ago, I spent a few hours with a child who was such a victim. His careless mother squirted lighter fluid onto smoldering coals on the barbecue grill, and the four-year-old boy was engulfed in flames from the waist up. I saw him some six months after the event when my husband went over to the house to visit on a business matter. This beautiful little boy looked like a lizard. And the smell! I can't describe it, nor can I forget it.
Putting on my teacher's poker face, I sat down with him and played a board game while my husband and the boy's father chatted about business. Perhaps an hour went by. I breathed through my mouth, as unobtrusively as possible. To this day, I don't know how I managed not to let that little boy see on my face the horror which I felt.
Of course, the time came for my husband and me to go home. Before we left, the boy cried, "Wait! I have something for you." He then ran to his room and returned with his fist clenched, hiding the treasure. He handed me a $20 gold piece. "This is for looking at me," he said. Reflexively, I reached out to hug him, but he flinched away. I took the gold piece and, on the sly, returned it to his father.
That little boy is all grown up now. He's married and has a son of his own. In addition, he's a very prosperous financial advisor and CEO. But the scars are still there, even after multiple plastic-surgeries. Not long ago, I asked him if he remembered that day he paid me to look at him. He doesn't. But something of the memory must remain with him because we are on a first-name basis, even though in the course of some twenty-five years, we've seen each other only three or four times.
Being a burn victim is a life sentence, both physically and emotionally. I've seen that truth in my financial advisor's eyes. And a few days ago, I again saw that truth on television when Yvette Cade gave her statement to the media.